Get ready for a revolution in everyday riding with the Kaabo Skywalker series, heralded as the "most powerful commuter scooter." It's the solution to your commuting needs, blending impeccable speed and incredible range. With the Skywalker series, your daily travels become a delightful and smooth experience.
Setting a New Standard
The Kaabo Skywalker series has completely redefined urban commuting. The electric scooters in this series deliver an impressive performance that merges comfort with excitement. What's even better is that you get all of this without breaking the bank. The Skywalker series stands tall, proving that exceptional value doesn't have to come with an extravagant price tag.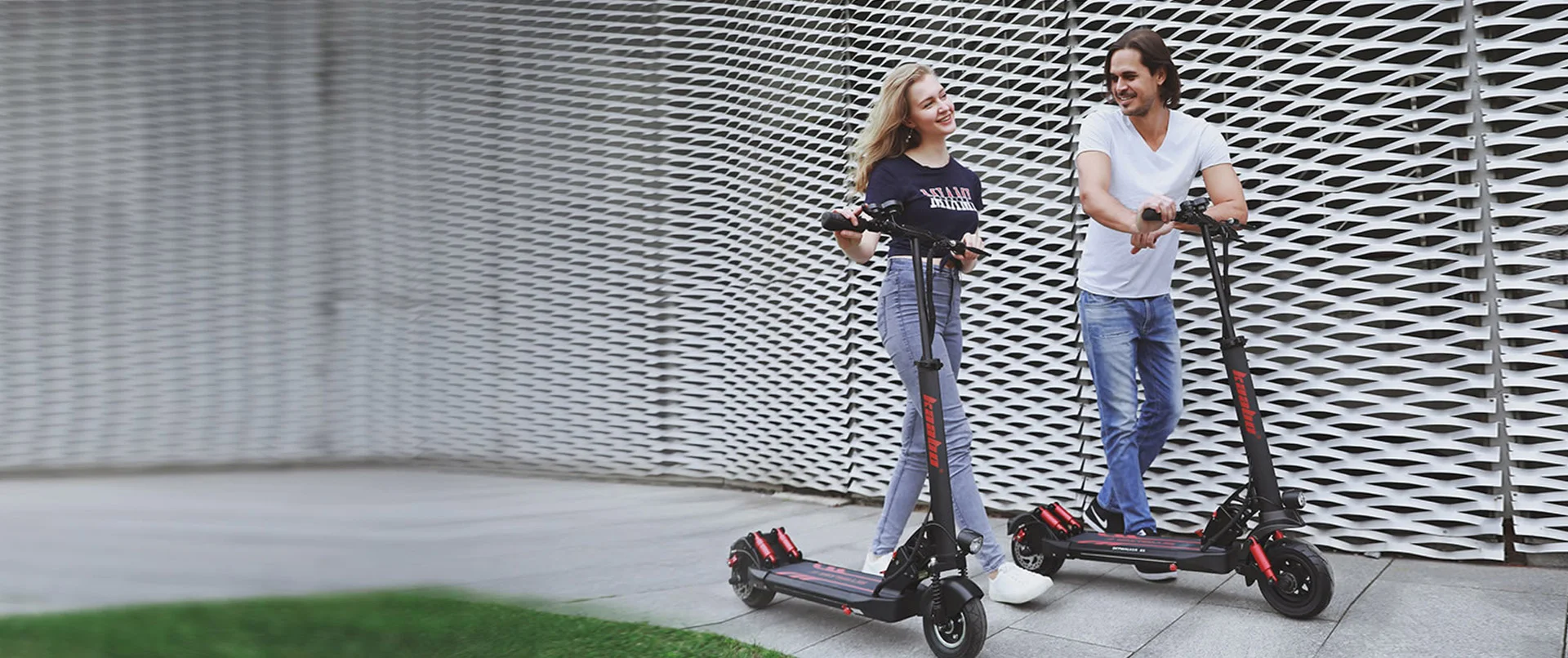 Embrace Longer Journeys
The Kaabo Skywalker scooters boast an impressive range that varies from 45 km to a more extensive 50 km. Even the shortest maximum range offers exceptional coverage for long-distance commutes, marking the Skywalker series as a frontrunner in this category.
Apart from its remarkable range, the Skywalker series ensures thrilling speeds, with some models capable of reaching up to 45 kph. Zipping through busy streets and maneuvering through traffic is a breeze for this series, showcasing its ability to hit 24 kph in under 4 seconds.
Safety and Comfort Redefined
Braking performance is outstanding with the Skywalker series, showcasing an array of braking systems from rear disc brakes to dual disc and electric braking systems. The braking distance of a few Skywalker models is an impressive 2.8 meters at 24 kph, setting high standards for scooter safety.
To add to the smooth ride, the front and rear suspension absorb shocks seamlessly, making your journey comfortable and bump-free.
Built to Last
The aluminum frame of the Skywalker models exudes durability and strength. Combined with robust motors and powerful batteries, these scooters promise not just style but an exceptional riding experience.
The sizeable and sleek deck and the wide, fat tires ensure stability and traction, ensuring your ride is safe on varied terrains.
Convenience and Portability
While the Skywalker series may lean towards the heavier end, the power, acceleration, and shock absorption compensate for its weight. Known as the "most powerful commuter scooter," the Skywalker 8S still holds its ground despite its heft.
One notable feature is its convenient folding system, enabling easy portability. Additionally, the adjustable handlebar height of the Skywalker models caters to riders of different heights.
Enhanced Riding Experience
Enjoy the easy-to-read LCD display and a pleasant-sounding horn. The adjustable, curved handlebars amplify your comfort and ease while riding. These models also ensure your safety with their low-mounted LED headlight, rear light, and side strip lights, providing excellent visibility during your nighttime rides.
Choose Your Ideal Skywalker
The strength of the Kaabo Skywalker series lies in its variety. Offering four fantastic models, each with unique specifications, the series empowers riders to choose the ideal scooter that aligns with their needs and preferences.
Whether you're upgrading or seeking more power, the Skywalker models offer flexibility with slight variations in their capabilities.
Closing Thoughts
The Kaabo Skywalker series sets a benchmark for daily commuters, providing diverse options for a powerful and fulfilling riding experience.
Pros:
Fast and long-range commuting capability
Adjustable handlebars for comfortable rides
Excellent suspension for a smooth experience
Quick and convenient folding system
Cons:
Slightly heavier compared to other scooters (Skywalker 8S: 22 kg, Skywalker 10H and 10C: 21.4 kg)
No official manufacturer IP rating
If a Kaabo Skywalker sounds like the scooter for you, check out the range here